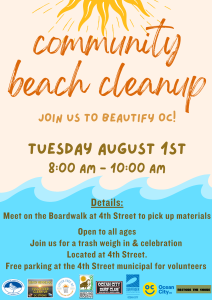 Join Ocean City's amazing environmental groups for a first-time collaborative beach and street cleanup Tuesday, August 1st, Fourth Street, and the Boardwalk, from 8 a.m. until 10 a.m.
Assateague Coastal Trust, Beach Heros-OC, Maryland Coastal Bays Program, Ocean City Surf Club, OC Go Green, Restore the Shore, Surfrider Foundation, and the Town of Ocean City through the Ocean City Green Team are banding together on a united front for a community beach cleanup. All respective groups coordinate cleanups and other environmentally focused events throughout the year not only directly in Ocean City, but throughout the region.
All are welcome and encouraged to take part. Representatives from each group are setting up an area on the beach at 4th Street and the Boardwalk for volunteers to register, pick up supplies and provide an opportunity for people to learn a little more about the initiatives of the respective groups. A waiver will need to be signed upon arrival.
The Town of Ocean City is providing free parking for cleanup participants at the municipal parking lot on 4th Street from 7:30 a.m. until 10:30 a.m.
Volunteers are asked to bring their collection back to Fourth Street and the beach by 9:30 a.m. to celebrate all their hard work and weigh all the trash. The town will take care of disposing of the trash properly.
Those interested in collecting trash beyond these walkable areas, are welcome and encouraged to do so and can bring their bounty to the weigh-in site.
You do not have to register in advance; however, if you are planning on attending, please consider filling out this form so coordinators can have an estimate of how many participants plan on attending https://docs.google.com/…/1FAIpQLSc2NhGxQrUECW…/viewform
If you cannot attend the event, but would like to participate in a cleanup, please check out the Adopt Your Beach/Street Program at either site https://mdcoastalbays.org/adopt-your-beach-registration/
Adopt Your Beach Ocean City MD | Environmental Maryland (ocsurfclub.org)
The Town of Ocean City Public Works does an outstanding job keeping our beaches and streets as clean as they possibly can 24/7, but microplastics, debris caught on side streets, in sand dunes, and buried in sand is always a challenge. Participating in community cleanups helps keep our waterways and beaches clean.
If you any questions, please email [email protected]